Information about The Climate in Cusco Peru
Cusco is surrounded by a 360-degree scenery of the Andean Mountains that interchange green and brown colors throughout the year. The territory of the department of Cusco presents a rough geography, combining fertile inter-Andean valleys with imposing mountains, to then go down to the jungle's edge, where the temperature rises and the landscape transforms itself into varied vegetation. That territory is situated in the heart of Peru's Southern Cordilleras, defined by the Andes Central and Oriental Cordilleras and its borders are adjacent to 7 departments: To the North, with Junín and Ucayali; to the East, with Puno and Madre de Dios; to the South, with Arequipa and to the West, with Apurimac and Ayacucho.
Cusco city benefits from a semi-dry and cold climate. The maximum annual average temperature is of 10.6ºC and the minimum, of 3.2ºC. The rainy season starts in November and ends in March and the mountains become green.
The Vilcanota Cordillera shelters Mount Ausangate (6,372 MAMSL) which is the department´s highest point and Peru's fourth-highest peak. Other elevations that stand out between Vilcabamba and Paucartambo are Mounts Salkantay, Pumasillo and Sajsarayoc.
Between June and July, frosts are common and very occasional snowfalls have been reported. Its soils form the ideal space for developing natural indigenous grass and originative products such as quinoa, kiwicha, cañihua, broad beans, coca, ulluco, oca, and several types of corn and more than 3 thousand varieties of potatoes.

Weather in Cusco
The
city of Cusco
is an incredible travel destination for many reasons. For one, its proximity to a variety of different natural and Incan sites, from
Machu Picchu
to the
Rainbow Mountain
(
vinicunca Mountain
) The city itself is rich with history and culture, and it is easy to see the Spanish and Incan architecture while walking through the streets. However,
Cusco
is at a high altitude of 11,000 feet (about 3,400 meters) above sea level, which means that it is not at all a tropical climate. Visitors, especially those arriving by plane, will need to spend at least a few hours to a few days acclimating to the sudden change in altitude, and will also have to be prepared for the weather.

Cusco Peru has two main seasons. The rainy season lasts from November to April, but is generally a little warmer. Temperatures don't usually get any warmer than the high 60s (F) but generally also don't drop below 40°F. May through September have very few rainy days per month, but low temperatures in June and July drop to freezing. Sweaters are a good idea to bring (or buy) any time of the year, as are raincoats – while it is less likely to rain during the dry season, there are still always one or two days, so it's best to be prepared for the worst case scenario.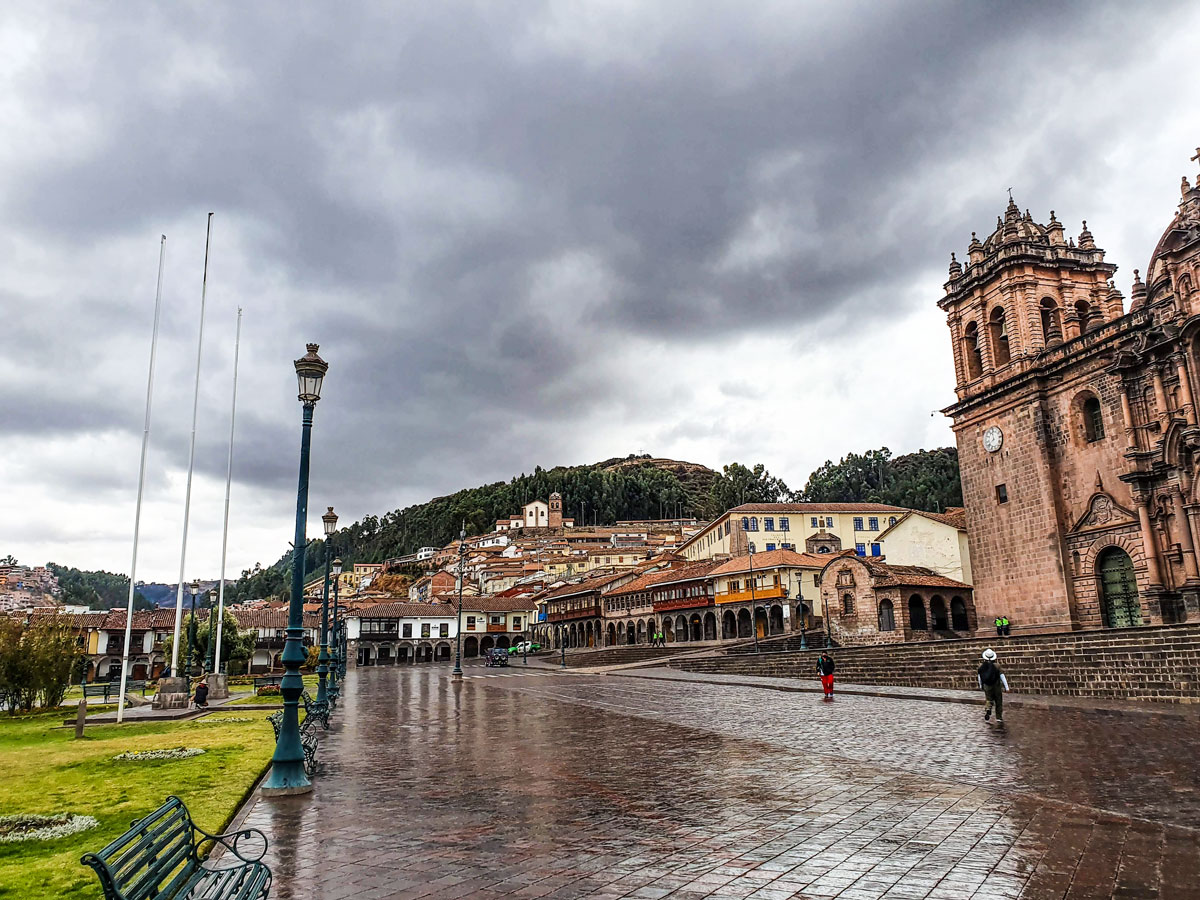 A lot of the temperature can depend on the weather. On a large scale, temperatures in the Andes vary almost not at all, but on a day-to-day basis, a sunny day can be worlds different than a cloudy one. It's common to need a t-shirt and light pants at one point during the day, when the sun is out and shining brightly, and then moments later to need a sweater and still feel chilly as clouds cover the sky. Another part of being at such a high altitude is that there is less atmospheric protection against the sun's rays, so the effects are heightened, which can mean warmth or sunburn. It is essential to wear sunscreen in Cusco and in the Andes in general, because skin can get burned must faster and much worse than at lower altitudes.

In terms of acclimatization, there are many methods, and it also depends very much on the individual. Some travelers only need a couple of hours of rest and some coca tea and feel fine, while others take days and feel quite sick, and very few people never acclimate to the altitude. The best idea is to relax for about a day upon arrival, drinking a lot of (purified) liquids and eating in moderation. Difficult physical activity should not be attempted for a couple more days after this, but walking around the city should be fine. Travelers should take things slow, pay attention to symptoms, and not be ashamed to need a couple more days of complete rest. Altitude sickness can manifest itself in a variety of ways, including headaches, nausea, and vomiting. Some shortness of breath is normal, but if this feels severe, "Oxy-shots" are available for purchase around the city and can help. Be sure to stay hydrated. Because of the altitude, bodies work harder than normal, so it is easier to get dehydrated. If symptoms are severe and last longer than a few days, especially vomiting, go to the nearest health center.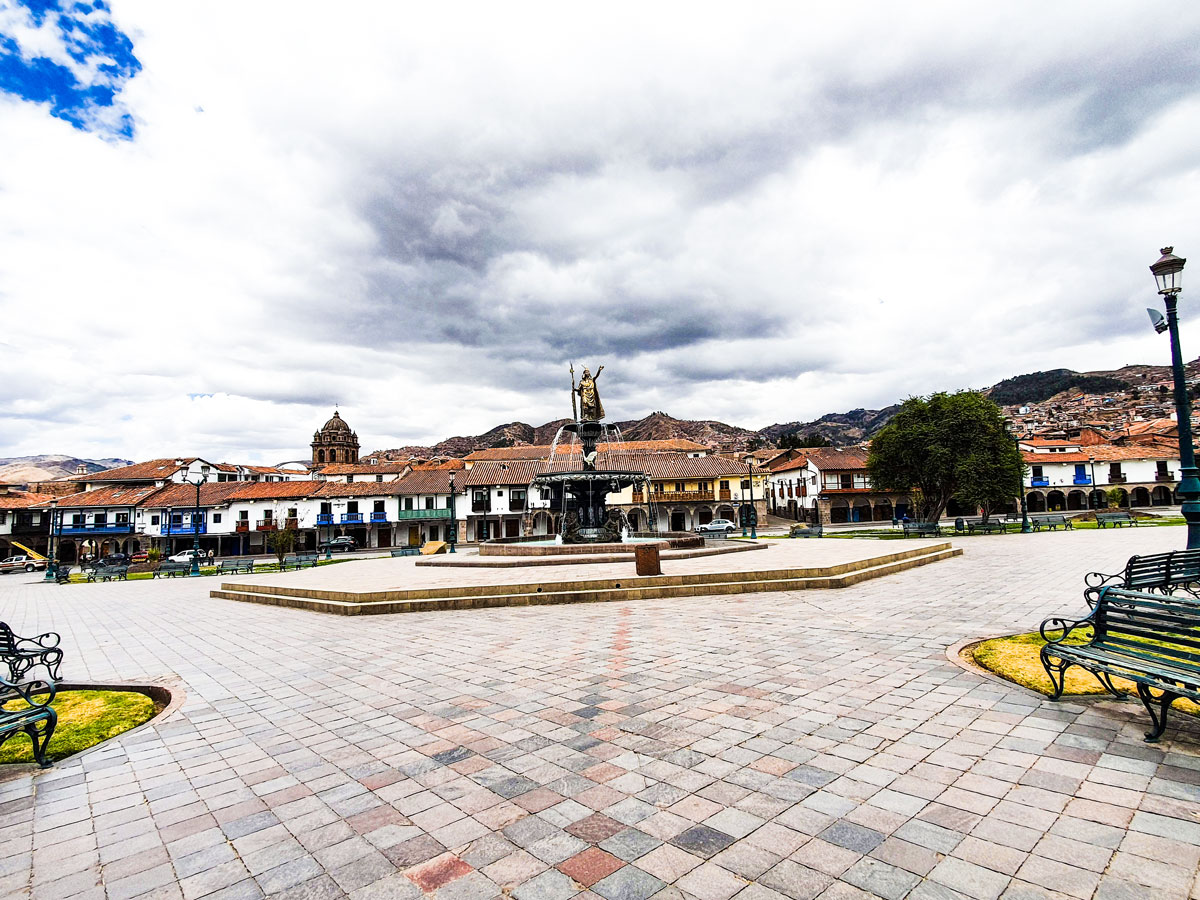 If traveling in Cusco during the rainy season, expect rain at least once a day. January and February are the worst months of the year in terms of rainfall, which is why the
Inca Trail
is closed during the month of February. Hail is relatively common, as are thunderstorms, which are amplified by the surrounding mountains and can be honestly terrifying. However, the rain is often quite peaceful, and provides a good opportunity to relax and look out at the green and beautiful mountains. An additional benefit of visiting the city during this season is that there are less tourists, so prices are generally better and it will be easier to find space at popular hostels or on treks.

The dry season, on the other hand, is almost guaranteed to be very busy. Cusco is known as a party town, so this isn't necessarily a bad thing. Also, just about any activity is very unlikely to be interrupted by rain, and days are often sunny and warm. The downside is that, due to the influx of tourists from all over during these months, it becomes especially important to book early for everything from hotels to tours, as they fill up fast. The Inca Trail, especially – slots for June-August can fill up as early as four months in advance. Hotel prices also peak in the middle of the winter, in July. To try to avoid crowds and rain, May is the best month, but there will still be more tourists than during any time of the rainy season.

To sum up, the dry season of May to September is the most popular season for visiting the city of Cusco, but is not necessarily the best for individual travelers, depending on their priorities about problems like crowds, prices, and trip accessibility or the ability to be spontaneous. Rainfall is the heaviest in November through March, but average temperatures are higher. At night, low temperatures vary from 44°F in the dry season to 32°F in the dry season. However, much of the "feels like" temperature depends on if the day is cloudy or sunny, and can change from hour to hour, so layering is the most important thing. It is advisable to bring short sleeved and long sleeved shirts, light jackets or flannels, and sweaters that can be taken off and put back on easily, as needed. Additionally, travelers should bring sunscreen and wear it every day spent outside. Even a short amount of time in the sun can damage sun without extra protection. At the very least, a wide brimmed hat is a good idea.
THE BEST SEASON TO TRAVEL TO CUSCO
Rainy Season: From November to March. In this rainy season almost every day for couple of hours but also there are several sunny days even in the rainy season.
Dry Season: From March to October. June and July are the coldest months during the night but very hot when the sun is shining even at high altitude places.
Note: Even in the dry season the climate is very unpredictable. April can be hot or miss so having those buffer days will come in handy!
Recommendations: You must be prepared for anything: for dryness or wetness, cold conditions and warm conditions, it will make your experience be more enjoyable.
The Best Cusco Trek & Tours