The famous Inca Trail takes travelers on an unforgettable journey to Machu Picchu, one rich with Incan ruins and culture.
The Classic Inca Trail is an incredible experience and one of the many ways that travelers can reach the legendary city of Machu Picchu. Due to concern over degradation of the trail, daily trekkers, including porters and guides, are limited to 500 per day. This trail passes through the cloud forest and through high mountain passes at 4,200 meters above sea level and is a unique and unforgettable trip that thousands of travelers take every year. The travel is challenging and unique and a path that the Incas themselves built and traveled along in the past. Hikers can enjoy views of the towering peaks of the Vilcabamba Mountain Range, and several Incan ruins including sites at Phyupatamarca, Sayacmarca, and Wiñay Wayna. The difficult but beautiful trek comes to a close at the "Lost City of the Incas" at sunrise.
Book your spots on the trail far in advance. This goes double for anyone trying to travel the Inca Trail during the dry season from May to September and triple for during high tourist season of June and July, which continues into August. The limited daily spots on the Inca Trail and its high popularity mean that it fills up quickly, as many as 4 months in advance. The Inka Trail is closed for maintenance during February, which is one of the rainiest months of the year. However, every other month is available to book.
Decide if you want to hike Huayna Picchu as well, because entry tickets for this mountain – with incredible views of the city of Machu Picchu – are even more limited than Inca Trail spots. For this opportunity, make a decision and book far in advance for these highly sought-after tickets. Huayna Picchu means "young mountain" to Machu Picchu "old mountain" and is also topped with Incan ruins. The peak of this mountain is 260 meters higher than Machu Picchu, which means that hikers have a breathtaking birds-eye view of the entire city, as well as the Urubamba River that runs around the base of the mountain.
Acclimate to the altitude. This trail is incredible challenging. It consists of hours upon hours each day of hiking, sometimes hours of just going up or down stairs. The altitude – reaching 4,200 meters above sea level at one point – makes this even harder than it would be normally, and anyone attempting this trail without having spent at least two days in Cusco is likely to also experience altitude sickness, the symptoms of which include shortness of breath, headaches, nausea, and vomiting in some cases. These symptoms can be exacerbated by the exercise, and in extreme cases may even require a hospital trip. Given the isolated nature of the Inca Trail, having an emergency two days in could be very dangerous.
Bring a raincoat. Even if travelling during the dry season, the weather of the Andes is notoriously unpredictable, and there are often one or two days with rain during these months (even June and July). Getting caught in a rainstorm unprepared could make the rest of the trip very damp and uncomfortable, so better to be safe than sorry. Additionally, raincoats can double as windbreakers, which could be quite helpful especially in the higher altitudes, where winds can be strong and cold, especially during the colder dry season.
Have sturdy, well fitting hiking boots. This may seem obvious, but its important to double check before leaving. The quality of your boots can make or break a trip, and at worst case, hiking for long hours in boots that are too small could cost you a toenail. It's also a good idea to bring an extra pair of socks (wool, if possible) for padding in case the boots are too big, and first aid for blisters, which can make the days painful when they should be joyful and exciting. Blisters are almost unavoidable, even with high quality and fitted boots, so bring blister first aid - the more specified the better.
Work to stay well hydrated. Be sure to bring lots of water, and rehydrating salts can be a good idea as well. The Inca Trail is a lot of work for anyone, and the easiest way to keep your body strong and healthy and moving forward is to drink plenty of water. Dehydration is also a common problem with altitude, since your body is working a little bit harder than usual even at rest, and dehydration can be dangerous and debilitating.
Be confident in yourself. Hundreds of people take the Inca Trail every day, and being one of them is a big deal. Believe that you can do it, and then do. This is a once in a lifetime opportunity; so don't let it get away from you because you may feel overwhelmed. Take the steps one at a time, or five minutes at a time, or whatever works for you, and don't be afraid to take breaks if you need to. In the end, it will all pay off, and you'll have beautiful memories, photos, and stories of your adventure.
Try to enjoy the scenery. The highs and lows of the trail offer a huge variation in landscapes and climates unique to Peru. It will pass through the high mountains and the cloud forest, both of which are full of life. Keep an eye out for gigantic condors, colorful parrots, adorable spectacled bears, or beautiful butterflies. Wild orchids also grow in abundance all over this area of the country, and trying to spot any of these beautiful species is a good way to distract oneself from exhaustion. Natural sights include snowy mountain peaks in the distance, quickly flowing rivers, and much more. Also, the trail passes several other Incan ruins that you should definitely take the time to explore.
Pack layers. There are many different altitudes along the Inca Trail, which makes for changing temperatures. Also, hiking during the day when the sun is out, and during the night or early morning, are very different. Wool and fleece are good, warm fabrics for jackets or socks, and have the added benefit of still being somewhat warm when wet, unlike cotton. During the day, breathable hiking pants, especially those that zip off into shorts, and t-shirts are advisable. At night, if you get cold easily, a pair of fleece-lined leggings can be a good warm layer to have on hand.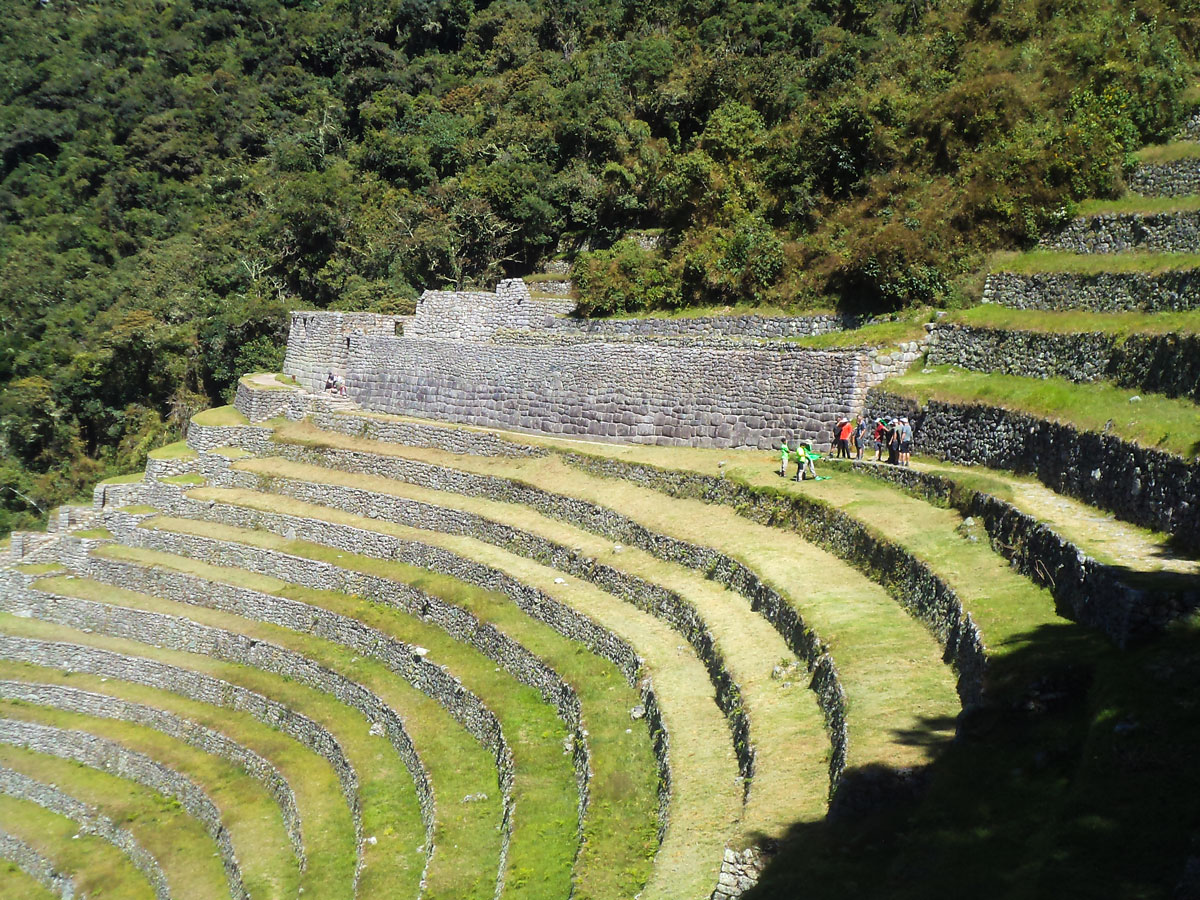 Bring sunscreen and bug spray. In the cloud forest, especially on hot days, there can be bugs, including mosquitos. The Centers for Disease Control and Prevention recommends applying sunscreen before bug spray, as this is healthier for your skin and also makes both products more productive. Due to the altitude of this hike, you can get sunburned much more quickly than normal. Brimmed hats and sunglasses are also good ideas, as excess sun can damage eyes as well. Even on cloudy days, UV radiation can still be damaging. Remember to reapply often during the day, and you can avoid sun damage while on trail, which can be very uncomfortable and is of course bad for your skin in the long term. Just in case, it might be a good idea to bring a soothing moisturizer, like aloe vera, or hydrocortisone cream to treat any burns.
Bring a walking stick. Some people don't find these to be helpful, but many do. Having a walking stick can make the ups and downs much easier and feel more controlled, which can be especially nice during the rainy season if the path is wet and more slippery. Walking sticks can be bought at the Inca Trail, or if you bring your own know that metal walking sticks must have a rubber or plastic tip to protect the trail.
Have a good backpack. It will need to keep all your belongings safe and dry throughout the journey, so it's important that it is sturdy and large enough for your belongings. A rain cover for your pack is also a good idea during any time of the year, for the same reasons that you should bring a raincoat. However, your backpack is arguably even more important, since if it gets soaked, then all your other clothes get wet as well. A backpack with a waist strap and/or chest strap is also very helpful, as it takes a lot of pressure off your shoulders and makes the hike considerably easier and your upper body less sore. A backpack with only shoulder straps will work fine, but for added comfort use a waist strap if possible. Your back and shoulders will thank you, and it will be good for your posture.
Bring a solar-charging flashlight or extra batteries for your flashlight. There are no lights along the trail, which is lovely at night, when you can see thousands of stars without light pollution, but going to the bathroom at night can be a bit tricky, regardless of whether that means the woods or an actual bathroom building. Both are unlit, and the incredible and vast sky of stars above you don't help. An early morning on the final day also means that the group will set out before the sky is light, so a flashlight can be both practical and comforting at this time.
Don't push yourself to be first. Push yourself, but know your limits. It is quite normal for a group to get spread out and arrive at camp up to several hours apart. Move at your own pace and save your energy for the next day instead of draining yourself on the first 10 km. Pay attention to your body, and accept that you may not be the fastest person in your group, and that's okay. The other people in your group can become some of your best friends; so don't let resentment get in the way. Take the trail one moment at a time and try to appreciate every bit of it.
Take your own toilet paper. This is another commodity that isn't provided along the trail, but important nonetheless. Bring however much you expect to need for 4 days on trail, taking into account that you should be drinking a lot of water! It's possible this will be provided on tour, but at least double check.
Bring a refillable water bottle. There are some places along trail where you can refill it water (which will have to be purified before drinking, so its also a good idea to bring some sort of water purification system with you), and the more plastic disposable water bottles that you can avoid wasting the better. Part of being on the Inca Trail is to both appreciate and be one with nature, and plastic water bottles can be incredibly damaging to the environment, especially since they are very unlikely to be recycled in Peru.
Carry small change, because using the bathrooms costs a small amount of money, but the attendants are unlikely to have change. Ten to fifteen soles in 1-sol coins is probably a good amount to bring, and anything larger than a five or maybe a ten (don't count on being able to use paper bills on trail) probably won't be helpful until reaching the town of Aguas Calientes. However, Aguas Calientes is a great tourist town, so having more money or a credit card is a good plan for enjoying the relaxing hot springs (the entry fee is 20 soles for foreigners), eating some delicious food, or buying souvenirs for yourself or your loved ones.
Last but not least: don't under any circumstances forget your original passport. This is necessary to confirm your Inca Trail entry pass, and without it you won't be able to enter the trail and go on this adventure you've worked so hard to get. A photo or photocopy won't cut it; you have to bring the original document to get past the checkpoint.